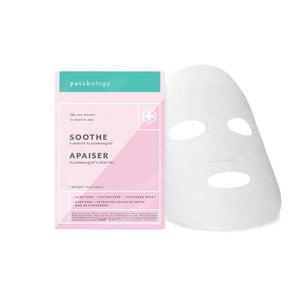 Welle Studio
Patchology FlashMasque Soothe 5 Minute Sheet Mask
Regular price
$8.00
$0.00
WHAT IT IS
Calm, Cool, Collected. Treat your skin to the loving care it deserves. A mask that soothes in just 5 minutes. Pack of 4 masks. 0.74 oz. Made in Korea.
WHAT IT DOES
Our innovative sheet mimics the Aloe Vera plant to calm and soothe troubled skin. Created with the best ingredients from Mother Nature's medicine cabinet-this masque is your 5-minute remedy.
HOW TO USE IT
Unfold the masque and apply to clean, dry skin
Place over your entire face, pressing the material snugly into facial contours
Leave on for 5 minutes or longer if desired
Discard and massage any excess serum into skin
No need to rinse- the serum will fully absorb into skin
INGREDIENTS
Aloe Vera and Cotton Seed Extract are natural anti-inflammatories that help soothe and calm redness. Schisandra Berry de-stresses skin and improves moisture for a plump, youthful glow. Bursting with vitamins, minerals and antioxidants, our blend of Rosemary, Sage and Lavender helps repair irritated skin.
---
More from this collection